:: News
Fifth National Meeting 'Initiative for Health and Vaccinations "
26.04.2012 ZdravenMediator.net - Kalin Dikov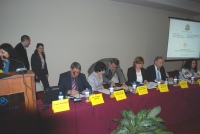 On 23 and 24 April was held the Fifth National Meeting 'Initiative for Health and Vaccinations "with representatives from all RZI in the country, all workers and newly trained mediators. The project is implemented by the National Council for Cooperation on Ethnic and integration issues to the Council of Ministers, together with the Health Care Committee at the 41st National Assembly of Bulgaria and the Ministry of Health within the European Immunization Week.

Partners of the initiative are the National Network of Health Mediators in Bulgaria, the National Association of General Practitioners in Bulgaria, the Bulgarian Red Cross, the Bulgarian Association of Innovative Medicine, Bulgarian Association of Vaccinations, with support from GlaxoSmithKline and MSD.

The participants were addressed: Minister of Health - Desislava Atanasova, Chairman of the Committee on Health to the National Assembly - Dr. Daniela Daritkova and CEO of National Health Insurance Fund - Dr. Plamen Tsekov.

The "Initiative for Health and vaksiniprofilaktika" aimed to strengthen the good cooperation between the key players in campaigns for the prevention of vaccine-preventable diseases among vulnerable groups. During the meeting were discussed and identified priorities of the National Strategy for Integration of Roma (2012-2020) and methods to improve interaction between health care and minority communities. Was presented the National Programme for primary prevention of cervical cancer (2012-2017) The

Attended the meeting and took to the topic and official guests: Director of the European Monitoring Centre for Disease Prevention - Dr. Mark Shprenger, Dr. Angel Kunchev Chief State Health Inspector, Emilia-Toncheva WHO Representative, Prof. Mira Kozhuharova national consultant in virology, Rosica Ivanova Secretary NSSEIV.

The mediators during the second day participated in training related to the prevention of cervical cancer and application of new vaccine. The following topics were: "The role of health mediators in primary prevention of cervical cancer", "health mediators, GPs and parents basic unit to achieve broader coverage of vaccination against cervical cancer" and "The role of the HM in organizing immunization against cervical cancer. " Health mediators across the country said that eager to join the campaign for vaccination against cervical cancer.