:: News
Network of Health Mediators mediation in Bulgaria presented our international conference in Skopje
26.01.2012 ZdravenMediator.net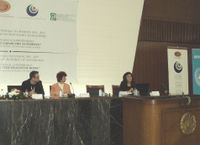 On 24 and 25 January 2012 in Skopje held an international conference entitled "Towards better health for Roma," under the auspices of the Decade of Roma Inclusion 2005-2015 under the Presidency of the Republic of Macedonia. The meeting was to present the best practices for access of Roma to quality health services.

Predstavtieli attended by government bodies and NGOs from Bulgaria, Romania, Serbia, Spain, Slovakia, Hungary and Macedonia as well as experts from international and razlizhni orgyanizatsii working in the field of Roma ingeratsiya as Evropeysktata Commission, Council of Europe, UN Open Society Institute and others.

From our side attended Rosica Ivanova / Secretary NSSEIV / that present health component of the National Strategy for Roma integration. Dr. Radosveta Stamenkova / CEO BFPA / Anife and Hassan / Deputy. Chairman NMZM / presented the key role of health mediators of Roma access to health care in Bulgaria. Their presentation was part of the panel, dedicated healthcare mediation.

Bulgaria was ednstvenata State health mediator was a participant at the conference. Blagarskiyat model is one of the most successful in the region, as evidenced by its replication in countries such as Macedonia and Serbia. Unfortunately, the economic crisis slows the progress of implementation of best practices - for example the Ministry of zdraveopaznaveto in Macedonia is still not podsigurilo funds to start work on the first 16 certified mediators who expect her appointment since the summer of 2011. In Romania, the number supported by the mediators budget was halved, and now they are 450. As seen, the battle for sustainability of the program internationally yet - battle in which Bulgaria has the opportunity to develop strategies and "open" network in a Transboundary Context.