"Let's Talk About Protection" - National Network of Health Mediators in partnership with European Centre for Disease Prevention and Control (ECDC) and World Health Communication Associates (WHCA)
05.03.2014 ZdravenMediator.net - Ivanka Abadzhieva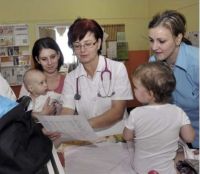 The project "Let's Talk About Protection" aims to facilitate communication between healthcare providers (GPs, physicians, nurses, Health mediators) and parents onvaccine-preventable diseases. In 2012-2013 in Bulgaria, Romania, Czech Republic and Hungary were transtlated and culturally-adapted Childhood Vaccination Communication Action Guide and Handbook/Flipbook. They provide extensive information about vaccine-preventable diseases, benefits of immunization, answers for frequently asked questions by parents about vaccination and other useful information.
Bulgarian Guide was developed by National Network of Health Mediators team jointly with National Centre of Infectious and Parasitic Diseases. The Guide and the Flipbook in Bulgarian could be downloaded from here.
Bulgaria was identified as a country suitable for evaluation survey on the effectiveness of the materials among Health care providers and Health mediators. Three settlements were selected - Samokov, Blagoevgrad and Kovachevo village (Septemvri Municipality). Five Health mediators are working for three months (February-April 2014) with the Guide and the Flipbook. General Practitioners, representatives from Regional Health Inspectorates and nurses also received these materials. All of them were trained how to use it.
In January 2014, before distributing the materials and starting work with it, the Health mediators implemented a survey among the households in four target villages and prof. Maya Grekova (Sociologist from Sofia University "St. Kliment Ohridski") conducted interviews with HCPs in these chosen settlements. Main topics of the two surveyswere the immunization status of children, the attitudes concerning immunization and the availability of sufficient information about vaccination. In May 2014 prof. Grekova will ask again the HCPs to share their impressions from working with the materials.
On 3th of March 2014 in Stockholm, Sweden, ECDC headquarters hosted a work meeting between the countries involved in the project. All countries presented their work -possibilities were discussed for extending the project activities in order to obtain support from health autorities in each country in order to provide the health informationmaterials to each GP and HCP concerned with immunization process.
The Bulgarian team developed two additional materials - colorful badges for children and Bulgarian Vaccine Schedule for parents. The badges say "I am Protected" - children receive a badge after succesful imunization. The Vaccine Shedule is a stiker that parents could stick on a convenient place at home to remind them when they should take their children to the doctor for immunization. HM is giving badge and schedule after or before successful immunization to the most vulnerable families.
Translation in English: Ivanka Abadzhieva
Immunization Schedule BG ECDC.jpg