Meeting with representatives of the Ministry of Health, National Council on Ethnic and Integration Issues, Commission for Protection against Discrimination and Regional Health Inspectorate-Sofia district
20.03.2014 ZdravenMediator.net - Marina Krivonozova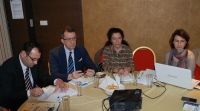 On March 14, 2014 National Network of Health mediators presented to key institutions Roma MATRIX interim project results. The project aims to combat racism, intolerance and xenophobia in ten European countries.
Ethnic Minorities Health Problems Foundation announced the launch of a new project - "Improving Access to Health Care for Vulnerable Groups and Communities through Advocacy and Promoting Sustainable Practices at the Local Level", funded by program to support NGO in Bulgaria within the EEA Financial Mechanism 2009-2014. The project started in January 2014 and will be implemented in three target areas (for shortlisting are Sofia region, Montana and Yambol).
The meeting was attended by Prof. Chavdar Slavov, Deputy Minister of Health, Rosica Ivanova, NCCEII, Secretary to Council of Ministers, Baki Huseynov, Deputy President of the Commission for Protection against Discrimination, and representatives of RHI-Sofia district.
Prof. Chavdar Slavov welcomed the efforts of the team and confirmed that he will contribute to improving the access to health care for vulnerable groups and communities, and will initiate a working group in the Ministry of Health, which would be committed to the changes in the profile of the work of Health mediators and to the increasing their scope of work.
During the meeting were discussed ways to prevent some common cases of discrimination based on ethnicity. RHI-Sofia district willed to consider cases involving healthcare and to work on notifications related to discriminatory practices.
Mr. Baki Huseynov noted that the Commission for Protection against Discrimination has the ability both to respond to specific signals from citizens or groups of citizens and to deal on legislative texts and regulations that are discriminatory in nature and encouraged the team that there may be changes after the signal.
The worrying trend for segregation of schools and classes in many places was also disscused at the meeting. Unfortunately, on this question are not taken any measures by school principals and local mayors, but is also considered a natural process that doesn't have practices on influenceing.
On behalf of the project team in the meeting participated the project Manager and the project Coordinator - Tsveta Petkova and Dilyana Dilkova. The workshop brought together experts from NNHM and Ethnic Minorities Health Problems Foundation - Prof. Ivaylo Tournev, Ognyan Kamenov and Vencislav Kirkov from Bulgarian Family Planning Association.
As a result of the workshop, the team expects cooperation between institutions engaged in non-tolearation of discriminatory practices, to increase the number of solved cases and to help solve them out of court.