National Network of Health Mediators Became a Member of the National Network for Childen
19.01.2014 ZdravenMediator.net - Vanya Abadzhieva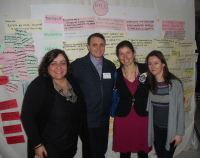 In the beginning of December 2013 Association "National Network of Health Mediators" was accepted as a member of the National Network for Children. This is a free alliance of over a hundred NGOs working in field of education, health care, social services and other with main objective - advocacy for children`s rights and their wellfare in Bulgaria.
Right after that NNHM was invited to take a part in "Conference of the Future", held on 16 and 17 January in Kazanluk (Bulgaria) involving organisations wich are members of National Network for Children. Tha aim of the Conference was developing strategic plan including vision, goals and activities of NNC for 2014-2020.
NNHM was presented by Diliana Dilkova. Among tha participants was also Dr. Radosveta Stamenkova - Executive Director of Bulgarian Family Planning Association and member of the Management Board of NNC, she is a part of Health mediators program from its very beginning.
Participants in the Conference were divided in 9 working groups. They worked on different tasks which results were presented and discussed. It was improtant for the participants to analyse the past of NNC and organisation members, to take into consideration the current trends in the field of children`s policies (positive and negative), as well as to develop precice ideas for the strategic objectives of NNC in the next 6 years. The final report from the Conference is expected to be presented in the beginning of June 2014 on the Annual Meeting of NNC.
Joining of the NHMN as a member of the National Network for Children was hailed as a long overdue and necessary in order to enchance the expertise in health policy for vulnerable groups. This is the great opportunity for new partnerships and popularisation of results from HMs work.
Translation in English: Vania Abadzhieva