International Meeting within the project "Together for Better Health - for us, by us" in Bucharest, Romania
14.06.2014 ZdravenMediator.net - Vanya Abadzhieva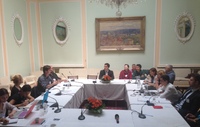 On 12 and 13 June 2014 the international team of project "Together for Better Health - for us, by us" implemented in Bulgaria, Romania, Slovakia and Hungary gathered in Bucharest at Annual Project Meeting.
The Annual Meeting was divided in three parts. The first part was Round table focused on discussion on health and social issues of Roma community and work experience of NGOs from the four countries on Health mediators'training programs, the appointment of HMs and improvement of access to education for kids. The Round table was kindly hosted by Slovakian ambassador in Romania, His Excellency Jan Gabor. It was also attended by Bulgarianand Great Britain ambassadors to Romania, representatives of national authorities, general practitioners, NGOs. National Network of Health Mediators was presented by Prof. Ivaylo Tournev, Ognyan Kamenov, Diliana Dilkova, Vanya Abadzhieva and Georgi Nikolov (HM in Samokov Municipality). During the Round table a representative from each of the partner organisations on this project has an opportunity to present achievements and difficulties in the project implementation. Diliana Dilkova (Project Coordinator in Bulgaria) pointed out as achievements:
- Establishing contacts with Municipalities where HMs profession was not introduced until this project;
- Establishing of partnership with Medical University – Sofia for professional training of Health mediators;
- Established good practice for organising fear competitions for selection of HMs in the municipalitieswith NNHM participance in the selection commissions;
- Provision of exchange visits between newly trained HM and their experienced colleagues.
Second part of the Annual Meeting was dedicated to Face-to-face meeting between the four partner NGOs in the project. The possibilities for prolonging of project activities right after the end of this project were discussed - after April 2015.
Third part of the Annual meeting was the organized site visit by Association OvidiuRo, partner organisation from Romania. The one-day visit was in Transilvania region, Hetea and Araci villages, Valcele commune where poor families with children are encouraged to send their little children in kindergartens. Doing this the families receive additional monthly food vouchers. The site visit included meeting with children in kindergarden; discussions with teachers and school principal, mayor of the village, general practitioner; tour in two Roma settlements.
The project "Together for Better Health - for us, by us" is funded by GlaxoSmithKline and started in 2012 with main goal to support the institutionalization and sustainability of Healthmediation programs in Bulgaria, Romania, Slovakia and Hungary. Under the three-year project, every year HMs were selected, trained and appointed to work in Municipalities where HM`s profession is not introduced until the moment. In 2012-2014 in Bulgaria were trained over 40 new HMs and most of them were appointed by the Municipalities in the second year of their work.
The last International Meeting under the Project will be held in the beginning of 2015 in Hungary.