Health mediators on a mission in Varna and Dobrich after the flood
01.07.2014 ZdravenMediator.net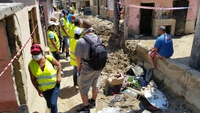 On 23 June (Monday) volunteers - Health mediators from 8 municipalitites went to Varna to assist their colleagues in dealing with the consequences of the disaster. Initiator of the mission was National Network of Health Mediators and coordinator of the volunteers was Velcho Mihalev - HM from Aytos. First volunteers were Gergana Demireva (Karnobat), Asen Asenov (Shumen), Milio Dobrev (Straldzha), Valentin Chakarov (Tervel), Rusi Bozhidarov (Nova Zagora), Sasho Yordanov and Natasha Todorova (Sliven).
The main tasks of the Helath mediators were:
- detour of houses and assessment of situation;
- inventory of damages - people without personal documents; chronically ill people without medicines; people who were hurt or people who lost everything;
- support Regional Health Inspectorate-Varna and Bulgarian Red Cross-Varna to reduce the risk of spreading of infectious diseases;
- providing access to local institutions (Municipality, Social Services, hospitals, etc.) and helping people in dealing with paperwork;
- distribution of clean water, food, donations and aids.
Health mediators will work on the field 5 days but they discuss prolongation of the initiative.
In Dobrich
the
Health mediators Anife Hasan and Nurdzihan Suleiman are making a detour in most damaged parts of the city. With financial support of National Network of Health Mediators until the moment were bought and distribute washing and cleaning products, diapers, etc. to 88 families. Detours continu
e
. Actions related to prevention against spreading
of
infectious diseases are coordinated with Regional Helat Inspectorate-Dobrich and Bulgarian Red Cross-Dobrich.