Network of Health Mediators in Macedonia follows the Bulgarian Model
12.10.2014 ZdravenMediator.net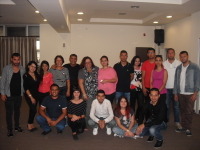 Macedonian Assosiation H.E.R.A, member of International Planned Parenthood Federation, organised two-day training for Health mediators in Macedonia. The training was held on 11th and 12th September in Skopie, Macedonia. Peter Tsvetanov (Chairman of National Network of Health Mediators-Bulgaria) and Radosveta Stamenkova (Executive Director of Bulgarian Family Planning Association) were invited by H.E.R.A. as trainers to share Bulgarian experience in estabilishment and management of a working non-governmental organisation.
On the first day Peter Tsvetanov presented the history and development of healthmediation programme in Bulgaria, and talked about how The National Network of Health Mediators manage this programme as professional organisation that define standarts on national level. Our Macedonian colleagues were impressed by Bulgarian achievements. They were interested mostly about the steps forinstitutionalization of the profession. They shared that for them thisseems to be an extraordinary achievement.
The activities of The Network were introduced as well as its place in communication between governmental institutions, local authorities, non-governmental organisationas and private sector in Bulgaria to ensure sustainability of the programme.
Dr. Radosveta Stamenkova presented the steps of estabilishment of such professional organisation. Macedonian Health mediators had a chance to learn more about strategical planning and conceptionsfor organisational development.
In the end of the training, as a result of Dr. Stamenkova's training session, the mediators in Macedonia managed to create vision, mission and goals of the network that they are going to estabilish. They went through SWOT analysis and analysis of their supproters. Our colleagues already have a vision about their strong and weak sides. They are strongly motivated to evolve. We, the Health mediators in Bulgaria are supporting them and wish them achievement of all their aims on this rough road ahead.