Project Roma MATRIX won "Human of the Year 2014" Award
10.12.2014 ZdravenMediator.net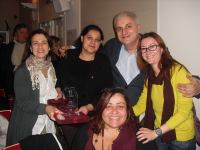 Human of the Year Annual Awards of the Bulgarian Helsinki Committee (BHC) were announced on 10th December 2014 (Human Rights Day) at an official ceremony in Sofia. It recognizes contributions to human rights in Bulgaria.
Project Roma MATRIX - Mutual Action Targeting Racism, Intolerance and Xenophobia was awarded with special prize for Overall Contribution. The Award is a result mainly from activities aimed at facilitating the equal access to education and health care for Roma. Health mediators more than a year identify and report cases of discrimination. The project activities are also aiming to challenge the stereotyped image of Roma in mainstream society. The campaign "WE ARE NOT AN EXCEPTION" shows Roma students in medicine and Health mediators.
The big award "Human of the Year 2014" was awarded to the volunteers and donors during the floods in Bulgaria this summer. Health mediators were part of the volunteer teams in Asparuhovo (Varna), Dobrich and Mizia.
"Integrated Roma are invisible" said Dimitrinka Borisova, who is former Health mediator, now student in Medical university - after graduation next year she will be a nurse.
"Open your senses!" is the messageof Tsveta Petkova, Roma MATRIX project coordinator for Bulgaria, member of the Managing Board of National Network of Health Mediators.
We are very proud and happy with the Award won by the Network of Health mediators - this is an appreciation for the devoted work of all the members of our big team!
For more information about Roma MATRIX project click here.