NNHM Participated in Meeting Held by European Economic and Social Committee (EESC)
11.02.2015 ZdravenMediator.net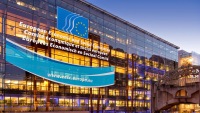 On 3rd February, 2015 Association National Network of Health Mediators was presented by Diliana Dilkova at the Final Conference of the project Better Inclusion of the Roma Community through Civil Society Activities, in Brussels at the headquarters of European Economic and Social Committee.
The Meeting was attended by representatives of European institutions - European Commission, Council of Europe, European Parliament, European Agency for Fundamental Rights, representatives of NGOs from Finland, Spain and Romania, other structures and organizations based in Brussels.
The main project goal is to prepare a Report, based on the best practices aimed to ensuring equal access for Roma communities to education, health care services, housing, employment, etc. Good practices on all topics were presented by representatives from Finland, Romania, Spain, Bulgaria. In Session "Roma and Health" Diliana Dilkova presented in detail the Health Mediation Programe in Bulgaria, international projects implemented by the Network and the short video Proffesion Health Mediator (2014).The presentation provoked many questions, related to the actual work of Health mediators in Bulgaria on the field, their work relations with health system representatives, organisation ofthe work with Mobile Units for performing medical check-ups for uninsured people and others.
The participants discussed thedraft version of the final report, commentedand offeredconcrete recommendations that have to be included in future documents of European Commission.
The Conference gave opportunities for extensive debate on four priority areas, including discrimination of Roma. In March 2014 another meeting will take place in Brussels in order to be launched a new platform, aimed exclusively at issues related to equal access of Roma to services and their rights as European citizens. The National Network of Health Mediators also will be presented.