Personal Hygiene and Sanitation Education Campaign
30.07.2015 zdravenmediator.net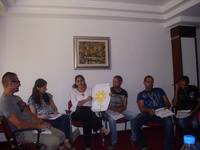 In April 2015 National Network of Health Mediators` team started developing educational tool for Health mediators on Hygiene topics. After preparatory work and submitting information about main hygiene issues in Roma settlements and neighbourhoods, on 13-15 July 2015 in Sofiawas organized workshop aimed at Hygiene for 9 HMs from 5 places. In the Workshop also took part our colleagues from Bulgarian Family Planning Association (BFPA), a representative from Regional Health Inspectorate - Sofia District and a painter-designer Elitsa Atanassova.



Main
discussed topics were
ways for transmission of diseases; introducing hygiene topics to children; educational games related to health for children. Health mediators were asked to describe the situation in their neighbourhoods in terms of infrastructure and hygiene and to propose adequate initiatives and materials.
In a session that was focused on the main hygiene issues in the neighbourhoods the HMs resumed the most risky practices they see (n
ot washing the hands and
fruits
; using common bathroom accessories; throwing garbage out or around the litter-bin; throwing waste in the yard or at places where children play; using dirty kitchen utensils; seldom changing children
'
s clothes with clean ones, including underwear; not washing the teeth and as a consequence – bad breath; contacts with animals without washing hands afterwards, etc.)

All participants proposed different educational materials and games to be included in the educational tool.
Together with the painter-designer, the HMs discussed ability to transmit information through images, different styles of the images, preferred colours and preferred objects that have to be present in the materials.

The campaign will continue in 2016 with more training for Health mediators how to use developed materials and educational group meetings with children.

Photos by Luben Piperkov:
here